Free "Kärnten Card"
You will receive the Carinthia Card as a pension guest free of charge for the duration of your summer holiday at Lake Pirdorfer See. Enjoy the services of the Carinthia Card, with which you can visit more than 100 destinations in Carinthia free of charge and receive great discounts from a further 60 bonus partners.
Free when booking in our house
Free for the duration of the stay
Free from April to October
Free for children and adults
Over 100 destinations and discounts at partner companies
More information:
Interessensgemeinschaft Kärnten Card Betriebe
Trattengasse 32, 9500 Villach
Tel.: 04242/90 525, This email address is being protected from spambots. You need JavaScript enabled to view it.
www.kaerntencard.at
Free "Aktiv Card Südkärnten"
As our guest, more than 40 active offers are available for free! These include guided mountain bike, racing and pleasure cycling tours of various levels of difficulty, guided hikes in the Geopark Karawanken, stand-up paddling, snorkeling, running and Nordic walking hangouts, golfing for children and adults, children's fishing, Archery, pony club riding, Zumba for old and young, e-bike hire, nostalgia rides, station shuttle services, etc.
Free when booking in our house
Free for the duration of the stay
Free from May to September
Free for children and adults
Over 40 activities for free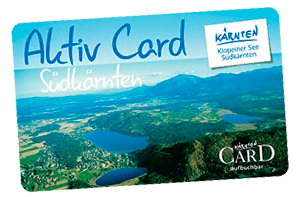 Folder Download (PDF)
More information
Tourismusregion Klopeiner See - Südkärnten
Schulstraße 10
Tel.: +43 (0) 4239 / 2222
http://card.klopeinersee.at